Reward Coin Box
Charity & Tip Boxes, Reward Coin Box,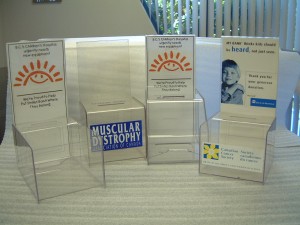 Reward Coin Boxes
Increase donations by rewarding those who make donations. Made of the same high impact PETG as our standard coin box, this box allows you to offer a special thank you for making a donation. The open section in front can hold candy, ribbons or other rewards. The coins are removed through an opening in the back of the box. Which is hidden by the sign card and secured by the back of the sign holder. Holes in the side and rear of the box allow use of a plastic 'tie strap' or aircraft cable for added security and theft deterrence.
This coin box measures 3-1/8" tall, 4" wide and 6" deep. This gives you a 2" coin box with a 3-5/8" open reward section. And the sign slim at the back holds signage 8" tall by 3-3/4" wide. We can print your graphics on the sign insert. And we can also add custom cut vinyl decals. Screen printing is also available for larger runs. Custom size boxes can also be made. Please contact us for more details.