CNC Cut Letters & Shapes
3D Lettering & Logos, Signage,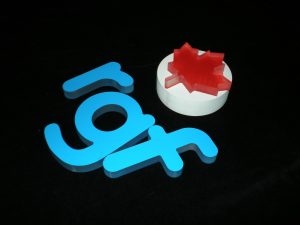 3D Lettering & Logos
3D cut lettering can be cut from many materials. It can have vinyl colouring applied to the face or even the backs depending on desired final results. These shape can be mounted with pins, double sided tape and are ideal for indoor wall signs, counter front signs or even mounted to a backer panel. We can even stand them off the wall, giving them even more of a 3D look. We are able to create professional quality mounting patterns for quick & easy installation. For tape mounted letters we perforate the patterns around the letters so that part can be removed while leaving the pattern in place. Letters and shapes could even be extruded thru a backer panel when LED back lighting is required. There is no end to the styles that can be achieved. We also do local area installations. Reach out to us.
Common Materials Used
Acrylic (black, white, clear & other colours)
Gator Foam Board (comes in various thicknesses & can be painted)
Styrofoam (1/2″ 1″ or 2″ can also be painted)
Wood (can be painted or stained)
Aluminum Composite (various colours and finishes)